Lakeland Dairies' Launch 'Fortification Focus' Resource Series For N&H Week
As sponsors of this year's N&H Week, Lakeland Dairies have applied their dairy expertise to publish a new series of professional fortification resources. Combining their expertise with insight from experts in fortified diets, the first resource in this brand-new series is an informative guide to help caterers choose the right milk powder for fortification purposes.
The Lakeland Dairies Fortification Focus series has been specifically created to demonstrate how the goodness of milk can support excellent nutrition and hydration for those who require a fortified diet.
Jean Cattanach, Marketing Controller Lakeland Dairies comments:
"Lakeland Dairies is once again delighted to help care caterers deliver high standards of nutrition and hydration during N&H Week and beyond. We have developed our free and expert resources to help caterers navigate the complexities of fortified diets, whilst providing practical everyday solutions to help them deliver fortified diets in a tasty, simple, and respectful way."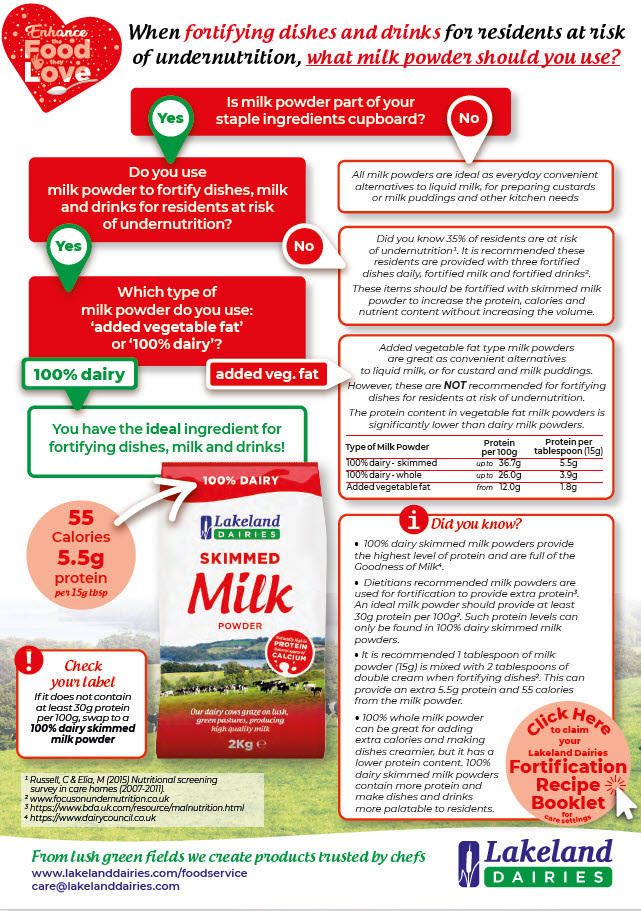 An N&H Week spokesperson adds.
"What a fantastic set of resources Lakeland Dairies have created. Fortification is such an important part of catering in the care sector, and we are delighted Lakeland Dairies have shared their expertise and placed a spotlight on this essential subject."
Fortification Focus: Guide to choosing a Milk Powder
This first resource is a practical flow chart that explains the differences between the types of milk powders available and helps show which one is the ideal ingredient to fortify dishes, milk, and drinks.
Created in consultation with dietitian Rachael Masters, the one-page guide is an easy to print out resource to help caterers increase protein, calories, and nutrient content without altering the volume of a dish.
The resource demonstrates dietitians recommend that 100% dairy skimmed milk powders are used when fortifying diets, and that an ideal milk powder should provide at least 30g of protein per 100g of milk powder. It finds such protein levels can only be found in 100% dairy skimmed milk powders.
The first Fortification Focus resource will be followed shortly by a second: Fortification Focus: Case Study Fortified Milk for Drinks
The guide is available now for free to download from Lakeland Dairies' website https://bit.ly/3wmoHuF